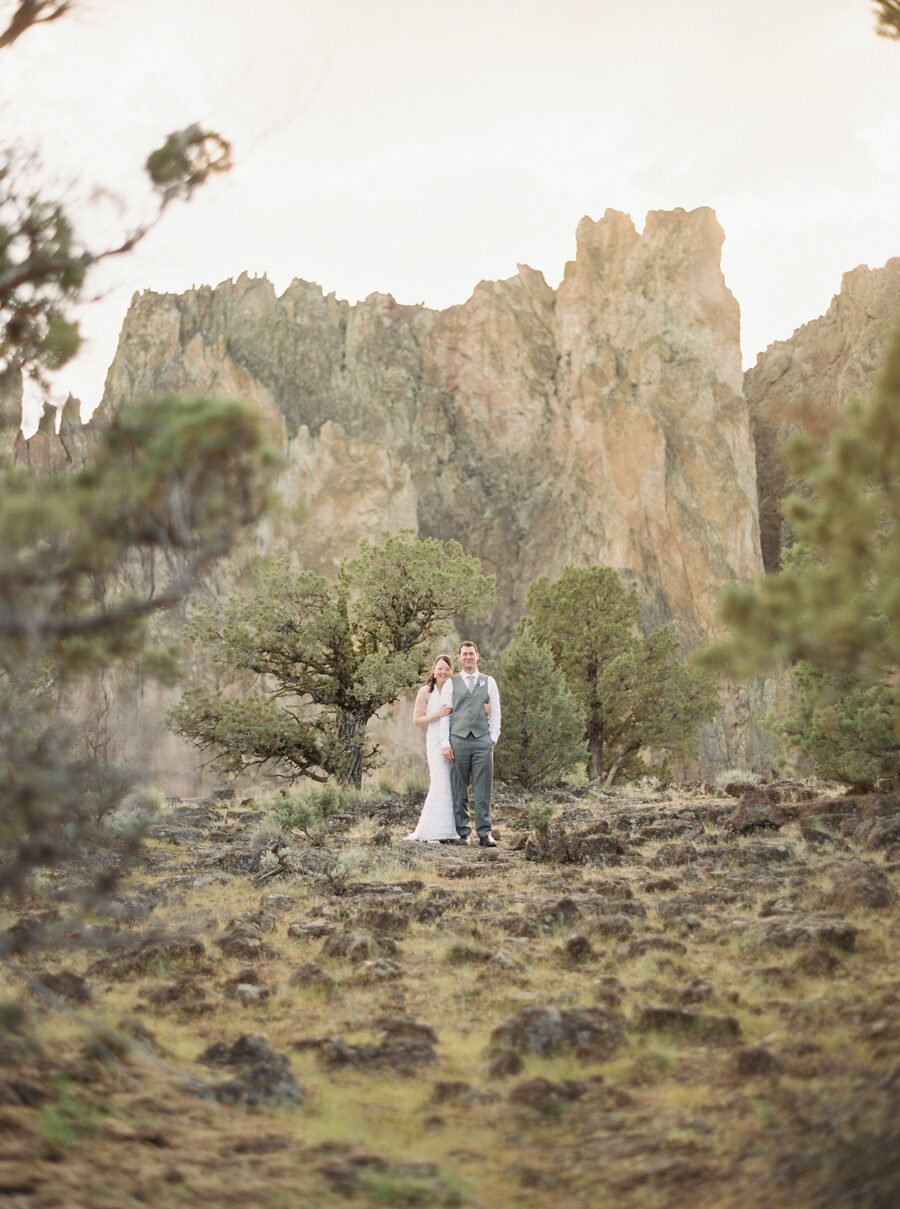 Ling and Neil got married in a small town about 2.5 hours away and then drove all the way to Bend for a Bride and Groom portrait shoot. This is their Bend Oregon elopement session. I am so happy they chose me as their photographer and I was a tiny bit nervous since Ling is also a photographer from the east coast, Trailing Twine Photography.
From the Photographer:
I loved that Samanthia and Austin chose to have their ceremony outside even though it was winter time. Samanthia's brother Lance Waltjen made the fire pit. The handmade benches were adorned with blankets for the guests that Samanthia and Austin then donated to the local homeless shelter.
Samanthia made custom hot chocolate for wedding favors. It is called The Golden Hot Cocoa . Made of spices from Savory Spice Shop in Bend, OR including dutch cocoa, turmeric, cinnamon essential oil, 2x pure Madagascar vanilla extract and evaporated cane juice.
The cakes are Lemon Meringue Cakes from Sparrow Bakery. "Four 6" layers of moist yellow cake filled with lemon-scented buttercream. Garnished with candied lemon peel."
I loved that Samanthia didn't wear a traditional wedding dress. She chose a below the knee retro dress with cowboy boots. The bridesmaids worse different color dresses that were very complimentary to each other and of course they all worse either a fur shawl or fur hand muff.
The early guests were greeted with coffee, hot chocolate and beignets.
From the Bride:
We wanted our day to be fun and lighthearted, a true celebration of love, all while acknowledging that marriage is a serious undertaking that requires the love and support of our community. For our winter outdoor ceremony, my brother welded a fire pit with our initials. We spoke our vows around it, and the ceremony concluded with everybody throwing kindling in the fire. They kept the fire going through the whole day. Our guests also participated in our ceremony by taking vows of support for us.
As morning people whose lives revolve around food, brunch was an obvious choice to make it authentically us and to keep it fun. Our guests were greeted with coffee, hot chocolate, and beignets under piles of powdered sugar. Chicken and waffles carried the slightly southern food theme, and instead of a traditional wedding cake we had several of our favorite lemon meringue cakes from a local bakery.
During the reception our guests visited our advice table. We had set up jars with questions like "What should we name our kids?", "What is the best relationship advice you've ever received?" and "What should we do for date night?". Apparently we should spend a lot of time making babies and name them after spices.
We put our personal touch on the wedding favors. Guests took home jars of Golden Hot Cocoa Mix, our custom blend of turmeric and cinnamon spiced cocoa. We wanted them to have something with which to warm up their winter, add a little bit of health and remember our day. Testing hot cocoa recipes for a month before was a delight, mixing and jarring it up with my mother and best friend was perfect and now I'm getting recipe requests.
It was the hard work of my friends that made it all come together. Rani MacNeal did the flowers. Rani flew out from Rhode Island and stayed up surely all night putting together succulent bouquets (she'll never tell me how late she was up), and Jen worked by her side potting teacups of succulents. Not a single teacup was left, and I get to see them every time I go to a friends house now. Signage was all done by Stephanie Olson. Stephanie spent her time in Bend (en route from Wisconsin to Cameroon) putting her artistic touch on everything from the chalkboard signs to the advice table and card box.
Our inspiration came from within. The day was about our friends, our families, our lives that intertwine and support each other. We stuck to the things we love and turned over decision making whenever possible.
Venue and Catering – Five Pine Lodge in Sisters, Oregon
Cake – Sparrow Bakery in Bend, Oregon
Wedding Favors, hot chocolate spice mix – Savory Spice Shop, Bend, OR
Check back real soon for more pictures of this gorgeous outdoor ceremony in Sisters, OR at Five Pine Lodges.
Eric and Alexa's whimsical Boho wedding at Merrywood Farms in Oregon.
Alexa and Eric were married outside in the woods at a beautiful venue called Merry Wood Farms which is located just outside of Portland, OR. As a photographer their venue was a dream, so many great details and spots to shoot. Their wedding was very beautiful, rustic and whimsy. As a wedding photographer you see a lot of the same things. A few unique ideas from Alexa and Eric's wedding day was the Grandma Flower Ladies. Their grandmas walked down the aisle tossing flower petals. It was so cute and a great way to include them into the ceremony. Alexa had the bottom of her wedding dress taken off and sewn as cap sleeves. The dress was so pretty and fit in well with their whimsy outdoor wedding. I also liked that they included the oversized balloons for not only the wedding party portraits but the family portraits as well. After their ceremony, Alexa and Eric shared a quiet moment under the apple tree, enjoying drinks and each other. It gave me another opportunity to shoot some more sweet moments of them together. I loved that Eric loves film as much as I do and was very motivated in having his wedding shot by a film photographer. In true Oregon fashion, even the wine was homemade…by Papa Jim.
From The Bride…Our Wedding day was pure whimsy! It felt like the beauty of our venue mixed with the rustic details simply enhanced the purpose of our day: making a commitment to love and serve each other till' death do us part. The day came together due to our many gifted friends and family. I was inspired by the beauty of Oregon's forest that I grew up around and wanted something natural and woodsy for my mountain man husband! We wanted it to feel as though our closest friends and family trekked into the peaceful woods to catch a glimpse of our nuptials. My bridesmaid's sat on tree stumps with delicate dollies (thanks grammie!,) guests chairs formed rows giving priority to the curve of the forest, and we stood under a beautiful arbor my Grandpa made for our special day. It was adorned with ferns my Grandma collected, along with the floral styling's of my precious childhood friend, Shaylee Hughes, who also served as the florist for the girls bouquets and my gorgeous bridal headpiece. The beautiful chalk art welcome sign (along with many other chalk board signs) was a gift of love by one of my bridesmaids Lauren of LaWren Designs. All of the festive banners, the ombre dip-dyed table runners, and lace on the mason jar centerpieces were created by me, the bride, and my mommy! We also had a blast thrifting retro colored glass votives and wood candle holders to shabby chic for centerpieces. My daddy cut the rustic wood rounds for centerpieces.
As I was walking down with my maids to meet Eric for our first look it started lightly raining. It was so peaceful and refreshing and I wouldn't have changed anything about our special moments we shared before the day got crazy and way fun! Being in the moment and soaking it all in has created many vibrant memories we can think back on. Thankfully though, it stopped raining shortly after our first look and the skies were clear for our day!
After our ceremony we wanted to spend our first moments as husband and wife together. We had friends set up a blanket and two bottles of kombucha for us to enjoy in a hidden apple orchid near the ceremony site! We basked in our newly married bliss and enjoyed some time sitting before we were off to our party. The contentment and joy we felt was beautifully captured by Tara.
The bridesmaids dresses were mostly from Free People, with one being from Billabong, and one was thrifted.
Kim Calcagno, my high school Fashion/marketing teacher, served as my day of coordinator. (Made the day SO care free!)
Girls bouquets, bridal floral headpiece and bouquet, ceremony styling's were done by my childhood friend Shaylee Hughes.
Wedding Dress – Maggie Sottero
Bridemaid's Dresses – Free People
Venue – Merrywood Farms, Oregon city, Oregon
This is just part one of two. Check back to see the bride and groom portraits, the reception, wedding party and the gorgeous cake.
This was an elegant backyard wedding in Oregon of Magali and Alf. Gold Chiavari chairs surrounded the backyard brick fireplace that was adorned with flower arrangements. The pink tone flower arrangements were all different but due to the repeating colors and type of flowers they were very cohesive. The dessert table not only had a beautiful gold cake but also cute little mini pies and delicious cupcakes. The mini S'more pie seemed to be the guests favorites as well as the Marionberry. A majority of the guests wore shades of pink as well and there was a lot of blowing bubbles during the reception. The bride Magali walked down the rose scattered aisle to the music from the pianist and violinist. The officiant delivered the ceremony in both English and Spanish. Magali chose to create a very simple setting with small details that would stand out as their guest visited with them. The flower arrangements were by Prestige Flowers, it was the flower shop Alf used the first time he sent Magali red roses when they began dating and every time after that. They used a lot of vases Magali had collected along their 2 year courtship for the flowers. Alf loves pies, Magali love cupcakes. They decided to do both.
Family is the most important thing for Alf and Magali. They had the whole back yard redone to be able to have the wedding at home and be able to provide their guest with a very comfortable environment.
All the images you see were shot with film. Fuji 400H and Ilford Detlta 3200
Bartender: Portland Bartender Express
Catering: Vibrant Table Catering & Events
DJ: Larry Sherrill
Musicians: Notes of Celebration
Officiant: A Beautiful Ceremony NW, Steve Sharp
Tux: Mr. Formal
Wedding Dress: Vera Wang
Pies: Pie Spot
Cake & Cupcakes: Lightning Cupcakes
Floral Design: Prestige Flowers
Eric and Alexa's gorgeous wedding is featured on Style Me Pretty. So many pretty details. Check back soon to see the full blog and all the beautiful images.